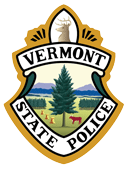 [Updated] A 15-year veteran on the Vermont State Police is under investigation for comments that he made on his personal Facebook account, according to reports by local television stations WCAX and WPTZ. The department was alerted to the contents of Corporal Jon Graham's Facebook feed after a concerned citizen re-posted various comments by Cpl. Graham to the Facebook page of the state police.
Among the posts that raised concern: a remark that equated Bruce Jenner's transition to a woman as a sign of the "decline of America"; two that expressed anti-Muslim sentiments; one that urged gays to "GO AWAY"; and one that expressed a desire to cause a Prius with a "Bernie Sanders 2016" sticker to "spin out."
In a statement issued on behalf of the VSP, Colonel Tom L'Esperance described Cpl. Graham's statements as "deeply disturb[ing]."
"These messages do not represent the core values of the state police and will not be tolerated by me," he said.
The VSP has a code of conduct, including a social media policy, that governs officer conduct both on duty and off. It states in part that officers:
shall conduct themselves in such a way as to ensure that their speech, which includes all written, spoken, or other multimedia material, does not reflect poorly on the department, impair established working relationships, breach confidentiality, impede performance of duties, violate any section of department Rules and Regulations, or negatively affect the public perception of the Vermont State Police.
Another portion of the policy discusses public perception of officers and VSP in general:
No member shall conduct himself/herself in a manner which is unbecoming to a Vermont State Police Officer. Conduct unbecoming an officer is that type of conduct which could reasonably be expected to damage or destroy public respect for or confidence in members of the Department or which impairs the operation or efficiency of the Department or the ability of a member to perform his/her duty. Conduct which violates VSP-DIR-118 (Sexual Harassment) may constitute conduct unbecoming.
Some members of the public posted messages in support of Cpl. Graham and his First Amendment right to free speech on his own time and on his personal Facebook account. The United States Supreme Court has held that public employees do enjoy First Amendment protection for statements on matters of public concern and should not be sanctioned for making such statements unless the statements interfere with the ability of the public agency to efficiently perform its function.
If the VSP disciplines Cpl. Graham for his Facebook posts, he would have the right to challenge that action. The first question would be whether his statements were about matters of "public concern," which have typically been defined by the Supreme Court as "matters concerning government policies that are of interest to the public at large[.]" San Diego v. Roe, 543 U.S. 77 (2004). Even if the posts do fall into that category, the VSP can take disciplinary action if it finds that the statements have a detrimental impact on his ability to do his job or the operation of VSP in general.
For an excellent overview of the legal issues surrounding speech by public employees, see "Facebook and the First Amendment Rights of Police Officers," by Attorney Jack Ryan.
[Updated 2015-05-12] Numerous Vermont media outlets have reported that Cpl. Graham submitted his resignation from the Vermont State Police on Thursday, April 30. The director of the Vermont State Police, Col. Tom L'Esperance, issued a statement accepting Graham's resignation:
I accept Jon Graham's resignation for all citizens who expect and have a right to a fair and impartial state police force. I also accept Jon Graham's resignation for all Vermont State Troopers who selflessly serve our communities and commit at the beginning of every shift to enforce the laws of our state without bias or prejudice, no matter their personal beliefs. I believe strongly that we are accountable for our actions. I commit the Vermont State Police to continue to build the community's faith in this department.