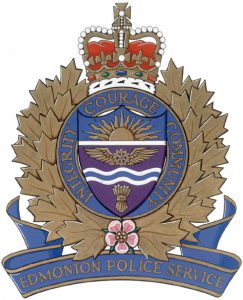 A tweet by an Edmonton social services agency set off a caustic Twitter exchange with the Edmonton Police Department, leading to the discipline of an unidentified officer.
On Tuesday, the Twitter account for the Inner City Frontline Workers of Edmonton (@InnerCityYEG) responded to the planned hiring of 49 additional Edmonton police officers:
Please no more police! https://t.co/GGikjvAiQy

— Inner City Frontline (@InnerCityYEG) April 14, 2015
Someone using one of the Edmonton Police Service's 21 Twitter accounts, @eps_csi, responded by writing: "Riight. And your solution to massive growing population, terrorist threats to our malls, more guns, drugs & violence is?"
Not surprisingly, that response and the tweets that followed were deleted from the @eps_csi feed. However, demonstrating once again the "Public and Permanent" nature of the Internet, the full exchange was archived by a Twitter user:
@zambonize @EPS_CSI @InnerCityYEG This is the sort of exchange that may 'disappear', for the sake of transparency: pic.twitter.com/lA4Q3FGWre

— joshculling (@joshculling) April 15, 2015
Initially, the EPS said that it did not know which officer had sent out the hostile tweets. Later, however, the department conceded that a male officer was responsible and had been admonished, but they declined to release his identity.