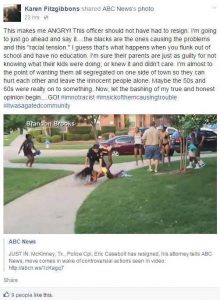 It was the pool party seen round the world.
On June 5, a number of officers from the McKinney Police Department allegedly responded to a "disturbance" or "reports of possible violence" at a pool party at the Craig Ranch North Community Pool in McKinney. It's not entirely clear who phoned in a report or why, but there are reports that suggest that parents in the Craig Ranch neighborhood were upset that so many teens showed up for the party.
According to one resident, the disturbance was not the function of race but of sheer numbers. Local DJ and Craig Ranch resident Benét Embry told the Associated Press that under the homeowner's agreement, each homeowner may bring up to 2 guests to the pool. However, word of an after-school party at the pool spread on Twitter and more than 130 teens swarmed the pool.
Regardless of whether race played a factor in the reported disturbance (some claim racial and class epithets were directed at African-American teens), the level of confrontation quickly escalated when the police arrived. One of the responding officers, Cpl. Eric Casebolt, was videorecorded aggressively ordering people onto the ground, randomly handcuffing unresisting teens, and in the most shocking sequence, violently pulling a young woman to the ground. As other teens surrounded Casebolt and the girl, Casebolt drew his gun, pointed it at various teens, and then flipped the young woman over on her stomach and pressed his knees into her back. The video is painful to watch:
Immediately after the events at the pool, Casebolt was placed on administrative leave pending an investigation; he subsequently resigned. The local district attorney has since asked the Texas Rangers to conduct an investigation of the incident. In the meantime, Casebolt's attorney told reporters that the video is incomplete and does not provide the appropriate context for his client's actions. He also said that Casebolt was under extreme stress when he arrived at the pool party due to the fact that he had responded to two separate suicide calls earlier in the day.
Not surprisingly, given the fraught status of police-community relations these days (particular minority communities), the incident generated a lot of public interest and media attention (the original video, recorded by Brandon Brooks, has been viewed over 12 million times already). And given the current state of affairs and the prevalence of social media, the odds were good that at least one educator somewhere in the United States would post something inappropriate.
In this case, that person was Karen Fitzgibbons, an 4th-grade teacher at the Bennett Elementary School in Lubbock, Texas, about 330 miles west of McKinney. When the news broke that Casebolt had resigned, Fitzgibbons took to Facebook to express her opinion of the whole situation:
This makes me ANGRY! This officer should not have had to resign. I'm going to just go ahead and say it….the blacks are the ones causing the problems and this "racial tension." I guess that's what happens when you flunk out of school and have no education. I'm sure their parents are just as guilty for not knowing what their kids are doing; or knew it and don't care. I'm almost to the point of wanting them all segregated on one side of town so they can hurt each other and leave the innocent people alone. Maybe the 50s and 60s were really on to something. Now, let the bashing of my true and honest opinion begin….GO! #imnotracist #imsickofthemcausingtrouble #itwasagatedcommunity
Putting aside Fitzgibbons' strong entry into the "Least Effective Hashtag of the Year" contest, it is noteworthy that she was sufficiently savvy about social media to anticipate that there would be some blowback over such an offensive and disturbing status update. What Fitzgibbons may not have anticipated is that she would lose her teaching job.
Not surprisingly, her comments were almost immediately reported to the Frenship Independent School District, which placed the 16-year veteran on administrative leave. Fitzgibbons issued an apology and conceded that she had "vented in an inappropriate way."
I am truly sorry. I don't want my comments to reflect poorly on my district or campus, as the words came from me, not them. … I can, and will, use this situation as a real world example of how emotions and words can cause hurt to others. I am ashamed of my post. As I look back and reflect, I see how hurtful those words sounded. It is my hope that my sincere apology will be accepted.
She will have plenty of time to reflect. In a statement posted to its Web site late last week, the district announced that Fitzgibbons "will be relieved of her teaching duties at Frenship ISD."
Frenship ISD is deeply disappointed in the thoughtlessness conveyed by this employee's post. We find these statements to be extremely offensive, insensitive, and disrespectful to our Frenship community and citizens everywhere. These comments in no way represent the educational environment we have created for our students.
…
We hold our employees responsible for their public conduct even when they are not on active duty as district employees. Employees are held to the same professional standards in their public use of electronic media as they are for any other public conduct. This recent conduct was unacceptable.
The Internet, of course, metes out its own brand of justice. Within hours of Fitzgibbons' original post, someone created a "Fire Karen Fitzgibbons" Facebook page. It currently has 2,346 "likes," and over 1,500 "liked" a post showing the announcement from Frenship ISD.