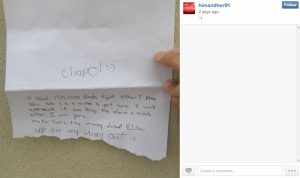 Some digital investigations are easier than others.
Roughly 22 minutes after 23-year-old Dominyk Antonio Alfonseca robbed a bank in the Town Center of Virginia Beach, police arrested him. They were aided, no doubt, by the fact that Alfonseca used some of his getaway time to post a video of the robbery and a photo of his demand note on Instagram.
Alfonseca, who has been interviewed by numerous media outlets while in jail, insists that he didn't actually rob the bank, since he never actually demanded money from the bank or the tellers. Instead, he told the Virginian-Pilot, he asked nicely and was simply given the money. Here's the text of his note:
I need 150,000 Bands Right NOW!! Please Police take 3 to 4 minites to get here, I would appriceate if you Ring the alarm a minute after I am gone… Make sure the money doesn't BLOW UP ON MY WAY OUT,-)
"I'm basically asking permission," he reportedly said. "In my eyes, I did not commit a robbery and I feel I'm being charged without reason."
It seems unlikely that the prosecutor will agree with Alfonseca's legal interpretation.