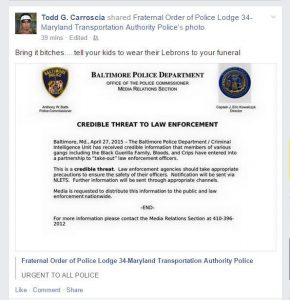 During the civil unrest in Baltimore over the death of Freddie Gray, the Fraternal Order of Police Lodge 34-Maryland Transportation Authority Police posted a photo of a memorandum it received from the Baltimore Police Department warning of possible targeting of police officers by various gangs:
Baltimore, Md., April 27, 2015 — The Baltimore Police Department / Criminal Intelligence Unit has received credible information that members of various gangs including the Black Guerilla Family, Bloods, and Crips have entered a partnership to "take-out" law enforcement officers. This is a credible threat. Law enforcement agencies should take appropriate precautions to ensure the safety of their officers.
So far, so good. The image was captioned "URGENT TO ALL POLICE," but there was nothing inflammatory about the Lodge's post.
Things took a turn for the worse, however, when East Cleveland police officer Todd Carroscia reposted the memo on his personal Facebook account with a much more disturbing caption: "Bring it bitches…..tell your kids to wear their Lebrons to your funeral[.]" Following media coverage of the post, Carroscia deleted his Facebook account. East Cleveland mayor Gary Norton said the post would be investigated by Internal Affairs.
Normally, that would be the end of the matter, at least until the East Cleveland Police Department announces whether any disciplinary action will be taken. But the post by Carroscia came to the attention of Eric Jonathan Brewer, a former mayor of East Cleveland. Brewer and Carroscia, to put it mildly, have a history; Brewer posted his version of that history in a long, impassioned Facebook response to Carroscia's comments:
I fired the East Cleveland cop in this picture in 2009 and Mayor Gary Norton rehired him after I left office. His name is Todd Carroscia. The post is from his Facebook page yesterday. Read the shit he wrote after posting a gang alert from the Baltimore police bosses to Baltimore cops that didn't have anything to do with East Cleveland, Cuyahoga County or Ohio.

"Bring it bitches … tell your kids to wear their Lebrons to your funeral."

Those are the words of a trigger-happy and racist cop. Carroscia's words show a certain "pre-meditation" in terms of his mindset right now on the streets of East Cleveland. He's broadcasting his "intent to kill" thinking as he patrols a city that's 94 percent populated with black people. He shouldn't be living off black tax dollars. He shouldn't be a cop in East Cleveland. Not only is his attitude disrespectful, it's dangerous.
Whether Brewer's various allegations against Carroscia are correct is really beside the point. What is relevant are the lessons that this offers not only for police officers but every employee who uses social media.
First, there are the obvious immediate professional consequences of impulsively posting to social media, particularly during times of political or social unrest. Every employee, and particularly those that work with the public, need to remember that comments made on social media are published to the entire world. If you need to gripe or share potentially inflammatory comments, do it among close friends over a beer.
Second, try to think about the impact that a provocative or controversial social media comment might have on your future job prospects. Even if you're not fired as a result of saying something racist or sexist online (and plenty of people have been), it's entirely possible that you might want to voluntarily change jobs sometime. It is highly likely that your future employer will do an online search to see what it can find out about you. Type in "Todd Carroscia" into Google, and three out of the first four hits are about this Facebook post. Click on the second page and there's a link to Brewer's rant. The rankings of those items can and will change, but they certainly will not be difficult for future employers to discover.
Third, you might be projecting a version of yourself that doesn't really match who you are. If you're fortunate, you'll have a colleague like East Cleveland Sgt. William Mitchell, who warmly defended Carroscia:
Carroscia works for me, I know he's a good officer. He's not a racist. Personally, I told him, speaking Bill to Todd, he shouldn't have said something like that, but it wasn't meant for public consumption. I hope people don't take this and try to use it against him.
But on the whole, it's definitely better to avoid putting your friends and colleagues in the uncomfortable position of having to explain your social media posts.
[Update: 7 July 2015]
A few days ago, I received a nice email from Eric Jonathan Brewer, who provided some additional information regarding the sequence of events in the Carroscia incident. I quote from his email with permission:
I discovered Carroscia's post and then shared my comments. After my post generated over 400 shares the Plain Dealer's reporter picked up on it and then wrote a story based on it. The reporter credits me with the find.

So any internal affairs investigation would have been sparked by my post whether directly or indirectly. I didn't follow the Plain Dealer, they followed me, and the mayor had no knowledge of the post until after I shared it.

Additionally, all the facts I outlined about Carroscia were in disciplinary and trial records associated with Arnold Hunt's civil claim against East Cleveland and Cleveland. I was deposed and had access to trial records from Hunt's attorney. I kept copies of many of my disciplinary actions for my own records.

I also don't believe there was a real internal affairs investigation. That's primarily because I was never contacted by the internal affairs officer as the person who brought the post to the public's attention. Technically, I'm the originator of the complaint.

Otherwise, I think your advice to cops was sound.

Eric Jonathan Brewer