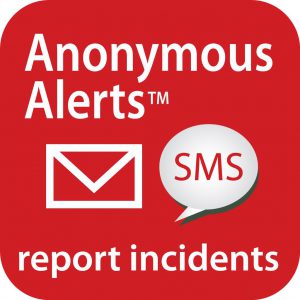 By T. Gregory Bender, CEO/President of Anonymous Alerts®
[Editor's Note: This blog was originally written by Greg Bender for the "CEO Blog" of Anonymous Alerts® and is re-posted with permission. You can read the original post by clicking here. In the spirit of full disclosure, please be advised that I have the pleasure of serving as a member of the Board of Advisors for Anonymous Alerts®.]
This blog is regarding the controversial Netflix® original series 13 Reasons Why and ways that Anonymous Alerts® can help your schools address the issues highlighted in the show.
Within the series, the main character Hannah faces numerous hardships that many students of all ages face. These hardships, along with the lack of help or someone to talk to, are the reasons why she took her own life. Whether school faculty and staff know about it or not, many students are going through similar situations depicted in the show as outlined below:
Bullying/Cyberbullying
Sexual Harassment
Addiction
Peer Pressure
Feelings of loneliness/neglect
Some have claimed that the series depicts suicide as a glamorized option when one is faced with difficult situations. Suicide should never be glamorized because it is not a solution. The show does properly depict that it can be hard for students to openly talk to someone about what they are going through. Students feel vulnerable and lost when they have no one to talk to. It is important for schools to play an active role in making sure students have healthy ways to handle difficult situations, and making them aware of how they can help one another through difficult times.
Below are some suggestions for school faculty and staff to discuss with their students:
Never be a bystander. If they see something, say something. It could save a classmate's life.
Always tell the truth. You never know how a "lie" or "rumor" can affect someone.
Suicide is never an option for anyone. Help is always available. Don't be afraid to seek it.
Always make sure students are aware of suicidal signs. They maybe able to spot them more easily than faculty and staff. Students should be encouraged to speak up if they see or hear a student is in trouble.
It is important that students are made aware of the various healthy options they have available to them, both in school and out of school.
The Anonymous Alerts® mobile application can empower students with its anonymous reporting, helpful resources, and on demand video training. When students see something, it will be easier for them to say something with the ability to remain 100% anonymous. The app's help and resources section can educate and provide helpful information to students in the form of web content, websites, custom videos, YouTube videos and more.
Here are some suggested uses of Anonymous Alerts®:
Anonymous Reporting
A student in distress can establish 100% anonymous 2-way communications with a trusted adult, or with school staff about a similar situation depicted in the series.
Friends of a student can also be encouraged to speak up with anonymous reporting if they see their friend in need of help.
Students should be encouraged to notify a trusted adult if they have any knowledge of occurrences similar to those illustrated in the series.
If the school as a whole goes through a tragic event, administrators have the power to send goodwill messages to each student through the app for those whom have opted in.
Anonymous Alerts – Help and Resources
Our customizable "Help and Resources" section of the mobile app is a place for school officials to provide students with helpful materials
Materials can included a variety of sensitive topics such as mental health, bullying, self-harm, and more.
School officials can customize this section in ways they think best fits their school community.
Some suggested videos that may help a child in need:
Some suggested website resources that may help a child in need:
Feel free to visit our website at www.anonymousalerts.com or call us at 914-220-8326 or (888) 291-2090 to learn more and schedule a demo.
We hope you have a safe and healthy end of the school year!
By T. Gregory Bender
President/CEO
Anonymous Alerts®
Copyright © 2017 T. Gregory Bender. All rights reserved.
About the Author
Gregory Bender is the Founder/President/CEO of Anonymous Alerts, LLC mobile app reporting system. Bender previously launched K12 Alerts® emergency messaging systems after the 9/11 attacks on the World Trade Centers.
Bender has over 19 years of strategic marketing, business development, web and mobile application development experience. In 2008, Bender won the "Entrepreneur of the Year" award from the NYC Greater Chamber of Commerce. Bender is also the co-author of The Professional Services Firm Bible (published by John Wiley and Sons), a comprehensive guide for mid-sized firms on every aspect of operations. Mr. Bender is a double patent inventor with additional patents pending.