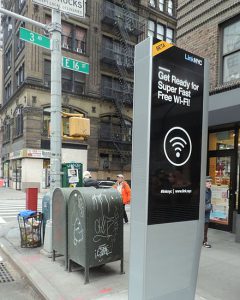 It is difficult to overstate the full depth and breadth of the New York Post's loathing for the administration of Mayor Bill de Blasio (and presumably for the Mayor himself).
In the Post's view, there is no social ill afflicting the city–vagrancy, panhandling, public urination, the rat population, disrespect for law enforcement, political correctness, the overpaying of aging stars by the Yankees–that has not worsened since his election in 2014. And now, the gravest charge has been leveled: the de Blasio administration is providing free porn to the homeless and wide-eyed schoolchildren.
Both the headline–"Horny homeless men use Times Square Wi-Fi to watch porn"–and the opening sentence of the Post's story have a certain panting quality: "The city spent years sweeping porn and peep shows from Times Square — and in just a matter of months, the de Blasio administration brought back the sleaze, The Post has learned." The implication is that the Mayor and his subordinates have spent the spring hammering together viewing booths and are now handing out quarters with salacious leers to the digitally disadvantaged.
But of course, that's not exactly what is going on. Even before Mayor de Blasio was elected, New York City was exploring ways to convert an aging and increasingly obsolete technology — pay phones — into something that would actually be useful. In 2015, a contract was awarded to a consortium of companies called LinkNYC to install 7,000 kiosks equipped with high-speed data connections, Wi-Fi access points, USB charging ports, electronic displays, and embedded Android tablets with Web access. It's precisely the type of resident- and tourist-friendly communication resource a modern world-class city should offer — at no cost to the taxpayers, it might be pointed out.
Given human nature, it's not terribly surprising that some people would use the tablets to access XXX-rated Web sites (as journalistic scoops go, the
Post
's "exposé" is somewhat short of meeting Deep Throat in a D.C. parking garage). As I discussed in my book
Obscene Profits
, the impulse to create and view erotic images goes back thousands of years. Moreover, it is a difficult and frustrating reality, as every school administrator, librarian, and parent is aware, that it is next to impossible to completely block all access to sexually explicit materials.
Buried in the Post's chiding article is the information that LinkNYC installed filtering software to limit access to inappropriate sites before launching its kiosk beta test. After being informed of the public porn viewing sessions, the company developed and deployed a new filter that successfully blocked the objectionable content.
A man who identified himself as Hakeem complained to a Post reporter about the software change: "I was watching porn on one of them things on, like, Saturday. Then on, like, Monday or Tuesday, all of a sudden I couldn't. Once word got around, it stopped. It sucks, man. It was great."
In the hands of a less ideologically-dogmatic rag, this could fairly have been a story that illustrated the administration's prompt response to a problem that briefly arose during the role of a significant and valuable public works project. But instead, casual readers are left with the impression that the city is all but streaming Pornhub clips on Times Square billboards. Given that the minimal investigation conducted for this article showed that the problem had been quickly and effectively handled, a more balanced headline and lede would have been appropriate.