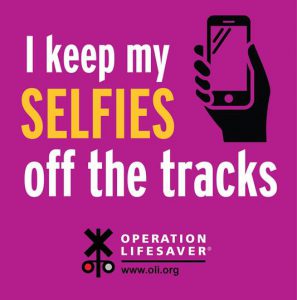 Sadly, five people have died during 2015 while taking photos or selfies on active railroad tracks. Those deaths are a disturbing sliver of a growing phenomenon known as "death by selfie." This has become a large enough issue to merit its own Wikipedia page; the debate over whether more people have died in 2015 from shark attacks or high-risk selfies rages on.
As I wrote earlier this year, the Virginia-based advocacy group Operation Lifesaver is committed to reducing the number of deaths that occur on or near railroad tracks. OLI's director of communications, Libby Rector Snipe, wrote yesterday to alert me to the group's new public service announcement on Vimeo. I've embedded the video below.
This video is primarily aimed at photographers who pose subjects on railroad tracks, but the group is reportedly working on a similar promo to educate people about the risk of train track selfies. There are certainly a lot of cautionary examples, so let's be safe out there.
No Photo is Worth the Risk from Operation Lifesaver on Vimeo.