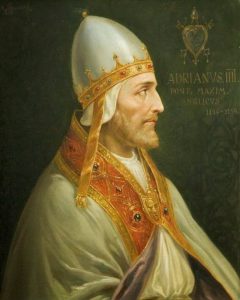 Nearly 900 years ago, in 1154, an English bishop named Nicholas Breakspeare was elected Pope, and took the name Adrian IV. He is thus far the only Englishman to serve as the Holy Pontiff.
Pope Adrian IV only served for five years before his death in 1159, and left at most a modest footprint on world events. He is best remembered for his work, prior to becoming Pope, in establishing Catholic schools throughout Norway that even today help to shape that nation's culture, and while Pope, for possibly urging King Henry II to invade Ireland (there is contentious debate about whether he actually did so).
Although he himself left it behind when he was elected Pope, the name "Nicholas Breakspeare" lives on, nearly a millennium later. In 1963, the Nicholas Breakspear School (without the terminal "e") was founded in St. Albans, a town roughly 20 miles north-northwest of London and just 4 miles northeast of Breakspeare's reputed birthplace in the vilage of Bedmond. The school has an enrollment of over 500 students, ages 11-18.
Late last week, a local paper called The Herts Advertiser ran a story based on a report by an anonymous source. The source told the paper that a male science teacher at the school (who is unnamed for legal reasons) was fired earlier this year after the school's IT department found that he had been using his school computer to view child pornography during his free blocks and lunch period.
The source also told the newspaper that evidence was found that suggested that the teacher had made arrangements to travel to "engage in sexual acts with children."
The whistleblower's decision to come forward was apparently based on his or her concern that the school was not providing parents with enough information:
I want this to come to light, it is unacceptable, parents were told he was away on sick leave and people deserve to know.
The local police told The Herts Advertiser that a man matching the description of the released teacher is under investigation for "making and possessing indecent images of children." He will face proceedings on December 18 following investigation by the Child Online Safeguarding Team.
The school's headteacher, Declan Linnane, offered a minimal statement:
I can confirm that this matter is currently being investigated by the relevant authorities with which the school are fully co-operating. We are unable to comment further at this stage.
Despite the paucity of information, there are a couple of relevant observations to make about this case.
First, it is important to keep in mind that this is a report based on a single anonymous source, and that therefore, the report should be treated with caution until more information is released.
Second, and notwithstanding the initial caveat, the school could have done a more thorough job of informing its parents about the circumstances of the teacher's departure. Given the fact that an arrest occurred over the summer and that it appears to be connected not only with the possession but also the making of child pornography, it is a little surprising that the school did not proactively alert parents, or offer a slightly more detailed statement to the press. This is not the kind of situation about which parents should be in the dark.
Third, the fact that a whistleblower felt it necessary to come forward raises questions about the administration of the school and its internal governance. Clearly, better mechanisms should be in place so that members of the faculty and staff can raise difficult issues and feel confident that their concerns are being addressed. The development of a culture of cybersafety for students (and faculty) is a community-wide endeavor that requires both leadership and effective collaboration.
[Update: 2 Dec.] One of the reasons that I wrote about this particular story can be traced to my recent viewing of the movie "Spotlight" (which I've seen twice, actually, even at New York City ticket prices; it's that good). In brief, the movie recounts the investigative reporting done by the Boston Globe Spotlight team that uncovered the sexual abuse scandal involving Catholic priests throughout the Boston metropolitan area. The story, first published in January 2002, led to the uncovering of similar abuse in cities and towns throughout the world.
It is critical to remember that in the case of both priests and teachers, the number of individuals who target and assault children is a small, even tiny fraction of the total number of people who have devoted their lives to helping and educating the young. But even a single assault is too many, and we need to always be aware of the temptation to suppress reports of misconduct to protect organizations or administrators.
Without giving too much of the movie away, it is sobering to note that over time, the Spotlight team realized that the Catholic Church in Boston would list offending priests on "sick leave" before reassigning them to new parishes. Hundreds, if not thousands of children were victimized by reassigned clerics. We should not let the same thing happen in our schools.
Spotlight – Domestic Trailer from InSync + BemisBalkind on Vimeo.