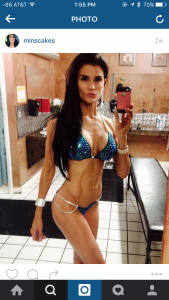 In an all-too-rare victory for common sense over prurience, a Utah middle school teacher was recently informed that she will not be fired for her slightly risqué Instagram photo gallery.
Mindi Jensen, who teaches at the North Sanpete Middle School in Moroni, Utah, used the pseudonym "minscakes" to post photos of herself working out, posing in front of mirrors, and competing at a recent body building competition. In many of the photos, Jensen is dressed in a bikini or revealing workout clothes.
According to a report by local television station ABC 4 Utah, Jensen's Instagram account was (of course) discovered by students at her school, who showed the photos to their parents. The reaction in the tiny town (pop. 1,280), located 60 miles south of Provo, was predictable:
These kids found it and the parents were appalled by the pictures, they called it immodest. They called it pornographic. They called the pictures inappropriate and these are my fitness and show pictures in my sport, in my uniform in my bodybuilding sport.
Jensen, who was recently divorced and now a single mother of four, told the station that she took up fitness and body building to help cope with depression and improve her health. She said that she receives lots of positive feedback from other women and single mothers.
I get women, single woman, single mommas that message me, even on Instagram they will message me and tell me that what they read and what they see that I'm doing has inspired them to be healthier, has inspired them to leave a bad situation, to build strength.
Initially, the North Sanpete School District told Jensen that she had three choices: make her Instagram feed private, remove any objectionable photos, or be fired. She did make her account private for a short while, but then changed her mind, believing that her positive message of fitness and personal strength was too important to shut down.
Following a query to the school district by ABC 4 Utah and a meeting of the local school board, administrators dropped their threat and decided instead to focus on better educating parents about student Internet use. District Superintendent Dr. Sam Ray said in a statement that "The district has cleared up any misconceptions with employees." Jensen added that she received an apology for the threat from the district.
It would be nice if this incident marked the beginning of a trend in which school boards (and preferably, parents of school-aged kids) stop overreacting to the social media feeds of teachers. As a parent and former school board member, I understand the positions and concerns of the various parties involved in these situations, but I think we need to adjust to the emerging reality that much of our lives occur now in an expanding gray area between public and private. The significant factor for me in this case is that the photos in Jensen's feed depict her in quasi-public spaces — the body building competition, gyms, etc. Sure, her outfits are revealing but nonetheless appropriate for the environments in which she was spending time. It's not as if she wore her competition or workout clothes to school, after all.
Would I reach a different conclusion if Jensen had been posting nude photos or conducting for-profit adult Web cam shows? Sure. I think it is not unreasonable for a school district to conclude that someone who overshares sexual activity is not an appropriate role model for students. But these are fact-specific inquiries; I'm not sure I'd agree that a teacher should be fired just because the Internet frost-heaves up a brief foray into adult modeling.
I also think that it is appropriate for the school district to focus on the primary gatekeepers for what children see online: their parents, and the parents of their friends. As I have said repeatedly, it is not easy to regulate what children see online, but there are steps that parents can take: limit the time kids spend using devices, investigate and install monitoring software for younger children, collaborate with other parents on a neighborhood acceptable use policy, etc. Schools and school districts should be active partners in protecting kids and help parents by incoporating digital issues (including sex education) into K-12 curricula and by offering regular information sessions for parents on new developments in technology, child use, and so on.