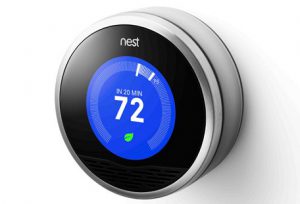 A couple of weeks ago, I had the opportunity to do another interview with Chicago Tribune business reporter Becky Yerak (@beckyyerak) about the privacy implications of the growing relationship between home insurers and companies that produce "smart" products for homeowners. Her article, "Insurers' discounts for smart home devices raise privacy concerns," ran last week in the Tribune.
As Yerak points out, some leading insurance companies now are offering homeowners discounts on their insurance policies if they agree to use devices like Google's Nest thermostat and/or smoke detector, or Canary, an "all-in-one" home security system that includes a HD camera and microphone, night vision, motion-activated video recording, and environmental sensors, including air quality, humidity, and temperature. For instance, the Canary Web site specifically advertises that "[w]ith Canary, eligible State Farm® customers can get discounts on homeowners and renters insurance."
These devices have the potential to collect impressive amounts of information about what takes place in our homes, particularly if the information is collected over a significant period of time. The Nest Thermostat, for instance, has motion detector sensors to help your heating system work most efficiently. As the company explains on its Web site:
The Nest Learning Thermostat uses Nest Sense™ (an exclusive combination of sensors and algorithms) to notice when you're away and when you come home. With Auto-Away, the Nest Thermostat turns itself down automatically when you're away to prevent heating or cooling an empty home. Upon your arrival, the Nest Thermostat will return to your regular schedule.
At the time when Google purchased Nest, one commentator pointed out that Google could easily cross-reference a Nest user's physical activity with information from his or her Gmail inbox or Google calendar. Did she actually meet her friends for drinks as promised? The Nest thermostat will know, at least, whether you actually left the house or not. (And in the very near future, as we approach data singularity, a combination of location data, check-ins, payment processing, cell tower pings, etc., will answer that question automatically for whatever corporations, organizations, and agencies have access to the data.)
While that type of scenario makes for good headlines and fear-mongering articles, there is little economic incentive for Google (or any other company, frankly) to spend the time and resources to figure out if a particular Nest user is tossing a few back with her besties as planned. But there is a significant economic incentive for power and insurance companies to gather much, much more information about what takes place in the home. Electric and gas companies are naturally very interested to learn more about how to reduce energy consumption and make the use of energy more efficient. And solar energy companies, of course, would be a natural market for usage information about consumers who might benefit from the installation of a renewable energy source.
In the short term, the biggest market for the data generated by smart home devices are insurance companies, who are constantly on the look-out for tools to help reduce the billions paid out for homeowner insurance claims. One huge perceived benefit of these devices is that they relieve the homeowner of the responsibility (or even the option) of self-reporting problems. For instance, is there a carbon monoxide problem that is going unreported? Is the homeowner turning off the smoke alarm on a regular basis? Is the temperature in the house repeatedly dipping below freezing, threatening an expensive flood from frozen pipes? Nest knows, and therefore Google knows — and increasingly, insurance companies will as well.
Millennials, I suspect, will have little problem with all of this data collection and mining. Certainly, the folks interviewed by Yarak seemed unfazed, which should come as no great shock, given the willingness of millennials to take and share naked pictures of themselves (one recent study found that nearly fifty percent of millennials "have shared a nude or semi-naked picture on their phone.")
Given the seeming indifference of millennials (let alone Generation Z) to issues like data sharing and data mining, I propose the following as the anthem for our privacy-challenged era:
(And for a fun twist on this song, check out the version done in Gaelic by singer Laoise Nolan and 600 adorable Irish kids.)