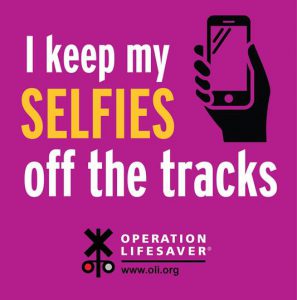 In mid-September, a young couple in Boyds, MD spent part of a sunny fall afternoon posing for photos. Like dozens of other teens and even some professional photographers, they decide to use the railroad tracks running through town as an attractive backdrop.
While 16-year-old Natalie Crim and her twin sister Sarah flipped through the photos on Sarah's digital camera, Natalie's boyfriend John DeReggi (also 16) played on the rails. None of them heard the oncoming Amtrak Chicago Limited, rumbling along at nearly 80 mph on its way to Harper's Ferry. DeReggi was struck by the train and died at the scene.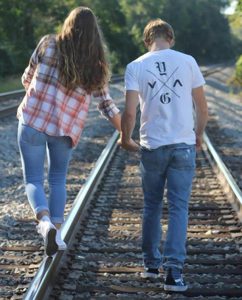 According to Libby Rector Snipe, Director of Communications for Operation Lifesaver, DeReggi was the fifth person to die so far in 2015 while taking photographs on active train tracks. (A similar number were killed in 2014.) Operation Lifesaver, founded in 1972, is "a non-profit organization providing public education programs in all 50 states to prevent collisions, injuries and fatalities on and around railroad tracks and highway-rail grade crossings."
On Wednesday, October 22, Operation Lifesaver is teaming up with the Professional Photographers of America to offer a webinar entitled "Safety First: Photography Near Tracks and Trains." The webinar will be held at 2pm EST and is open to the public and the press. Interested individuals can register using the link on the webinar description page.
The organization is also active in Canada and recently posted an interview with Canadian photographer Michael Hartrick about the risks of train track photographs.
The popularity of camera-equipped digital devices and social media networks has sparked a worrying rise in what I would describe as "extreme photography." Just a couple of days ago, for instance, a 17-year-old Russian student plunged nine stories to his death while trying to stage a dramatic photo for his Instagram feed.
Adults are just as prone to stupidly dangerous photography stunts. One recent example — fortunately non-fatal — involved a woman who climbed onto the DC Metro tracks at the West Falls Church station and did yoga poses while a friend took photos. She was arrested and charged with criminal trespass.
In an email, Snipe said that Operation Lifesaver offers a variety of educational resources that parents and safety groups can use to educate teens (and themselves!) about the risk of train track photography.
We encourage parents, and peers, to talk about the dangers present near all railroad tracks and trains. Operation Lifesaver offers safety tips, as well as materials in our "See Tracks? Think Train!" campaign, to help foster a life-saving conversation. We emphasize that it can take a mile or more for a freight train to stop, even in an emergency. That's 18 football fields, so it's extremely unlikely that a train can stop if the engineer sees something or someone on the tracks. The trains are quieter than you expect, so you don't hear them coming miles away, and sometimes it's hard to tell what direction they're coming from if you do hear a horn.
On its Web site, the organization offers a list of tips specifically for photographers:
Trains can't stop quickly to avoid people or vehicles on the tracks.
An optical illusion makes it hard to determine a train's distance from you – and its speed.
The average train overhangs the track by at least three feet.
Railroad tracks, trestles, yards and rights-of-way are private property.
No tracks should be assumed to be abandoned or inactive.
People in your community mimic your behavior.
We know enough about the risk-taking tendencies of teens to realize that even the most sage advice typically will fall on deaf ears. What we can do is to urge adults and photography professionals to stop modeling risky and dangerous behavior, particularly through social media. We can also remind teens, over and over again, that no number of "likes" for a photo is worth risking their lives.