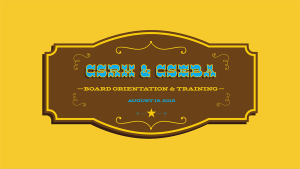 I had the pleasure of returning to lecture in San Bernardino approximately six months after my first visit. During that time, the name of the organization, Southern California School Risk Management, has been shortened by dropping the "Southern," to reflect that the fact that the organization is now a state-wide operation.
Wednesday's event, dubbed the "CSRM & CSEBA Board Orientation & Training," had a Western theme, so I had to do a quick Google search on how to tie a cowboy handkerchief. My inspiration was Harrison Ford in "Cowboys & Aliens," but I suspect (blissfully without photographic confirmation) that the effect was well short of Ford's rugged, grizzly look.
If you are interested in discussing a presentation or professional development program for your organization on this topic (with or without cowboy hats and scarves), please contact me for information regarding my rates and availability.
Kudos to CSRM Multimedia Designer Cesar Contreras for all of his assistance with the program yesterday.