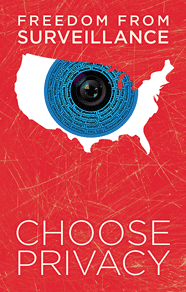 Each year, the American Library Association celebrates "Choose Privacy Week" from May 1 to May 7.
According to a blog post by Michael Robinson, the Chair of the ALA-IFC Privacy Subcommittee, this year's theme is "Who's Reading the Reader":
It feels like online privacy has taken a step closer to center stage in libraryland in 2015. For years, a number of librarians have been advocating that libraries and the ecology of vendors and publishers they do business with need to do a better job of protecting the online privacy of our patrons. We will hear again from some of them in this year's fantastic series of blog posts for Choose Privacy Week. Despite these voices of concern, privacy really did take a backseat as libraries struggle to deliver econtent, embrace the modern Web, and provide a better user experience.
The "Choose Privacy" Web site has a wide range of resources for libraries and patrons, including (among others):
Even in a smartphone-saturated, Wikipediafied world, libraries still have a critical role to play in providing access to information and assisting patrons with research projects. And libraries and their staff have often been on the very front lines of privacy protection. Every week should be "Choose Privacy Week," but make a point over the next few days to check out the ALA's resources and educate yourself about the importance of your local library.