This Book Giveaway Has Ended. Thanks to All Who Participated. A Christmas Promotion Will Run from December 11-18, 2018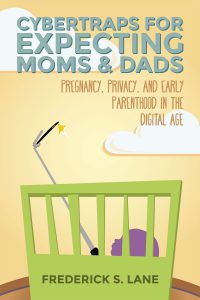 Between now and midnight on November 14, 2018, you can enter (for FREE!) for the chance to win one of ten Kindle editions of my most recent book, Cybertraps for Expecting Moms.
Click on the book cover to the right to go straight to the contest page, and good luck!
Coincidentally, the New York Post published a story this morning that is basically a summary of my book: "Warning: Your Kid's Digital Footprint Starts Before Birth."
Here's a sneak preview of the Table of Contents:
Introduction
Section One: The Cybertraps of Conception

Chapter One: Mobile Technology and Human Fertility: A Heated Debate
Chapter Two: Death from Digital Distraction and Other Missed Conceptions
Chapter Three: Love Me Tinder, Love Me True: The Impact of Geo-Social Dating Apps
Chapter Four: A Digital Bathhouse for Millennials
Chapter Five: Has Technology Ruined Sex?
Chapter Six: Conception and Personal Privacy

Section Two: The Cybertraps of Pregnancy

Chapter Seven: Social Media Risks at the Start of Pregnancy
Chapter Eight: Technology and Health Risks to the Fetus
Chapter Nine: Your Little Bundle of Data
Chapter Ten: Social Media Cybertraps During Pregnancy

Section Three: The Cybertraps of Birthing and Infancy

Chapter Eleven: The Cybertraps of Labor, Birth, and Birth Announcements
Chapter Twelve: Naming Your Child in the Digital Era
Chapter Thirteen: Whose Identity Is It Anyway?
Chapter Fourteen: "Smart Technology" for New Parents
Chapter Fifteen: >Parenting in the Era of Digital Devices
Chapter Sixteen: Delaying Your Child's First Use of Technology

Conclusion
Connect with Frederick Lane Online
Appendix: Drafting a Digital Technology Plan for Pregnancy and Infancy
Acknowledgments
Endnotes
About the Author