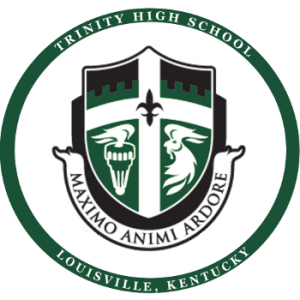 In a press release issued June 2, Acting United States Attorney John E. Kuhn, Jr. (W.D. Kentucky) announced that his office had arrested Patrick Newman, 35, and charged him with violating child exploitation laws.
Prior to the announcement by Kuhn, Newman taught Social Studies at Trinity High School, an all-boys Catholic school located in Louisville, KY. He also served as the offensive line coach for the varsity football squad. In a separate press release, school officials at Trinity said that they had been informed of the charges against Newman and immediately placed him on "indefinite leave pending further investigation." In a letter sent to parents the next day, Trinity principal Daniel J. Zoeller said that Newman "will not be returning to work in any capacity at Trinity."
According to the Complaint and Affidavit filed in U.S. District Court, Newman allegedly used the apps Vine and Kik to exchange sexually explicit messages, photos, and videos with a 13-year-old boy in Denton County, Texas. (You can view a copy of the Complaint and Affidavit below. Be advised that much of the textual material quoted in the Affidavit and attached exhibit is both NSFW and potentially upsetting.)
The discovery of the alleged misconduct is a perfect illustration of how contemporary digital investigations unfold. On January 23, 2015, Twitter filed a CyberTip with the National Center for Missing and Exploited Children, reporting that an individual had uploaded twelve videos and one image of child pornography to Vine, the company's video-sharing service. All of the material was uploaded from a single Internet Protocol (IP) address between December 28 and 30, 2014, and were made publicly available.
NCMEC located the IP address in Denton County and forwarded the CyberTip to the Dallas Internet Crimes Against Children Task Force. They identified a 13-year-old middle school student, designated John Doe, as the source of the material uploaded to Vine from that IP address. In a preliminary interview, Doe told investigators that he had exchange "nude/sexually explicit photographs of himself" with an adult male suing the KIK messaging app. He also told investigators that he had told the adult male how old he was.
Doe and his father consented to a search of Doe's iPhone 5C and police located sexually explicit conversations between Doe and a user called "321havingfun123". During a subsequent forensics interview, Doe discussed various conversations that he had with the adult male, described his appearance based on a headshot the adult male provided, and described various physical aspects of the adult male's house that Doe could see in the background of the adult male's photos (such as bathroom tile color, etc.).
Investigators asked KIK for subscriber information for user name "321havingfun123" and among other things, received an IP address that they traced to Louisville, KY. Further investigation revealed that the IP address was used by Patrick Newman. A search warrant for Newman's home was executed on June 2 and during the course of the search, investigators conducted a consensual of Newman. They explained how they had identified him as the KIK correspondent with Doe, and Newman conceded that he had exchanged messages with Doe. He also told police that he knew Doe was a minor and that they had exchanged sexually explicit images.
Newman's statements to police about his use of KIK are particularly disturbing, and should raise concerns for any parent whose child uses a smartphone:
NEWMAN gave verbal consent for the law enforcement official to search through his KIK account friends list. NEWMAN stated that he has spoken with other minor boys through KIK and has traded videos and photographs with these minors. NEWMAN also stated some of his KIK friends are adults who have traded child pornography with him.
Newman also told police that he created two separate Dropbox accounts and provided investigators with log-in information for each. Both contained child pornography videos.
A couple of general observations about the facts of this case:
Obviously, this is not so much an instance of a teacher caught dealing child pornography as it is a child exploiter and pornographer who happened to be a teacher. Is it possible to prevent such individuals from becoming teachers? Probably not.
Since the child pornography created by Doe was new (one of the unfortunate by-products of the smartphone era), it could not be detected by Twitter/Vine using NCMEC's hash database of known child pornography. Such content has to be flagged by an actual viewer, whether a private citizen, law enforcement, or an employee of the software company. Some progress is being made with automatic detection by software but we still have a ways to go before we can make much headway in blocking the transmission of digital contraband.
This case underscores the risk of providing smartphones to pre-teens and young teens, particularly without adequate education of the risks and proportionate supervision.
Even after fifteen+ years, it still amazes me just how much digital evidence can be located by investigators, and how quickly they can identify criminal suspects online.
[docembed url="https://www.dropbox.com/s/4hdp6gvvt04dnvz/2015-06-02%20Criminal%20Complaint%20and%20Affidavit.pdf?raw=1″ viewer="google" width="100%" height="500px" download="all" ]