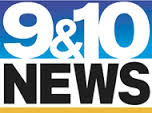 Reporter Alyssa Gambla (@AlyssaGambla) had an interesting report on Fox 32's 9 & 10 News in northern Michigan last night.
Entitled "Catching a Sex Offender," Gambla presented a behind-the-scenes look at the resources deployed by the Charlevoix County Sheriff's Department. One of the people she interviewed was Deputy Bill Church, who reminded people that when it comes to computer data, "deleted" doesn't necessarily mean "destroyed."
Not everyone can do this. It's very long, very tedious… it takes a lot of time to process a computer. People think they've deleted it and it's gone, and unfortunately, with the tools and knowledge I have, more often than not, it's not gone… and I will be able to find it.
In addition to offering a brief overview of the forensics process, Gambla also highlighted some of the statistics that illustrate the rising demand for computer forensics work by trained officers. Sheriff Don Schneider, for instance, noted that his department has already processed a dozen different computers and 9 cell phones since the first of the year, in addition to doing the digital undercover work designed to identify potential predators.
The department is also kept busy helping to monitor Michigan's more than 40,000 registered sex offenders, who are subject to random computer checks and are required to report changes in their residence, their jobs, and their online identities.
Sheriff Don Schneider reminded that Gambla and her viewers that teens who take selfies are violating the law; much of the educational work done by the department is to help protect teens from themselves.