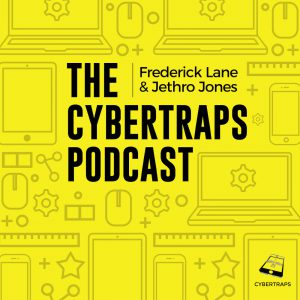 The Cybertraps Podcast is a twice-weekly podcast discussing all the trouble we can get into with technology. Hosted by Frederick Lane, author of the best selling Cybertraps series and Jethro Jones, host of the Transformative Principal podcast, this podcast delves into the world of where and how people get caught in Cybertraps, and more importantly, what you can do to avoid them. 
One episode each week is an interview with some of the nation's leading experts from the fields of education, parenting, sociology, educational technology, and cybersafety. The second weekly episode is a conversation about current events around cybertraps with Jones and Lane.
Lane has published several books on the topic of Cybertraps: Cybertraps for the Young (2011), Cybertraps for Educators (2015), Cybertraps for Expecting Moms & Dads (2017), and Cybertraps for Educators 2.0 (2020). Learn more at cybertraps.com
Jones has published over 600 podcast episodes and has the longest-running podcast focused on school leadership in Transformative Principal. Jones is also the author of SchoolX, and founder of Transformative Leadership Summit, an online only leadership conference started in 2016. 
Subscribe in all your major podcast services. Join us live weekly on Mondays at 12 pm Eastern.