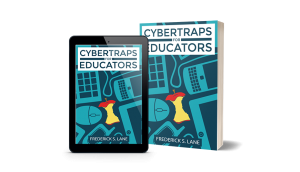 Cybertraps for Educators, discusses a wide range of potential legal traps for teachers stemming from the use and misuse of electronic technology and social media, including: cyberloafing, viewing inappropriate content in schools, mishandling investigations of student misconduct, cyber-baiting, identity theft and fake social media profiles, voyeurism, child pornography, sexting, and sexual assault. The book concludes with both practical tips and policy suggestions for minimizing the risk of cybertraps for educators.
"Educators are not only expected to be experts in content, curriculum, and pedagogy, they are also tasked with meeting the holistic needs of a highly vulnerable population. As a result, the emotional and intellectual interplay that occurs daily between students and educators is laden with professional risks. By utilizing authentic headline-grabbing cases, coupled with expertise leveraged from his vast experience as both an attorney and a computer forensics expert, Frederick Lane communicates an unescapable narrative … the cyber landscape for educators is treacherous, and inattentiveness is indefensible. Provocative … compelling … razor sharp … with solutions that work. This book is a must read." — Dr. Troy R. Hutchings, Research Chair for the College of Education and School of Advanced Studies at the University of Phoenix.

"This book provides the topographic map which teachers need to steer clear of major hazards in the rapidly changing digital landscape. Mr. Lane's sought after expertise remains both illuminating and accessible." — Dr. Glenn S. Lipson, a forensic psychologist and program director of the California School of Forensic Science at Alliant International University.